It would take a friend…
E.cut is the friend that any workshop man would want to have.
Small, compact, silent, easy to use, it makes with precision centesimal cuts geometrically perfect, on any conductive material. It does not dirty, it does not pollute, it does not make noise, it does not make shavings.
When it starts to cut, it doesn't need anybody anymore. For work of a few minutes or tens and tens of hours, it works silently, alone, at an incredibly low cost.
No mechanical work in the workshop costs so little.
The following day the installation starts to produce.  You don't need specific skills, nor specialized workers. In a few hours anyone learns to use E.cut. No traumas if missing who made it work.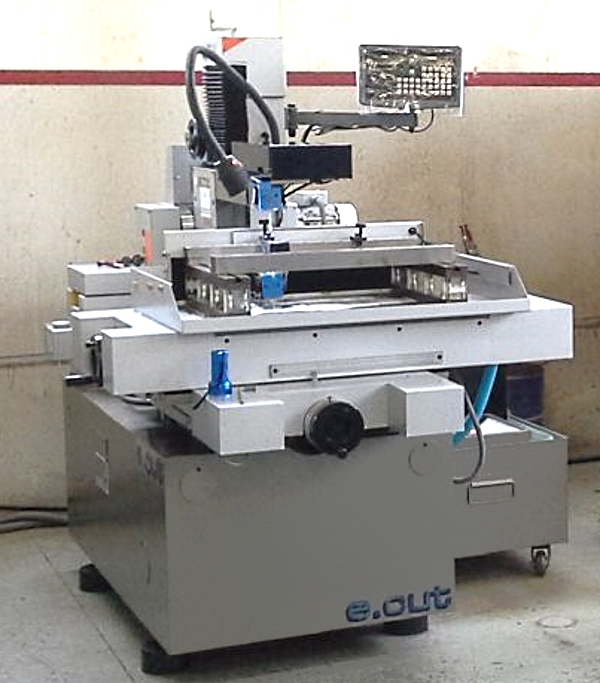 We need an E.cut.
so you could forget…
… all the anger to be modified a simple keyway on a piece already 'tempered. Transporting pieces, waiting, waiting… and spending, sometimes disproportionate figures.
And then sometimes it turns out that having an E.cut in the house even the seats of keys on new pieces would cost less, much less than doing them with the stool. The height becomes indifferent. Whether the thickness is a few tens of millimetres, or several hundred, the seat is always perfect, to the nearest cent, perfectly parallel even at high speeds 'of removal. Enough tools that refuse, that pull under, that go from here and there. Whether it's cast iron, steel, stainless steel, inconel, titanium… it doesn't matter.
Pulleys, gears, bushings, cutter bodies. Whether it's a keyway or a complex internal gearing, in a few minutes the cutting program is generated, the workpiece is placed, the tool is centred and… go. The machine alone, and the operator somewhere else!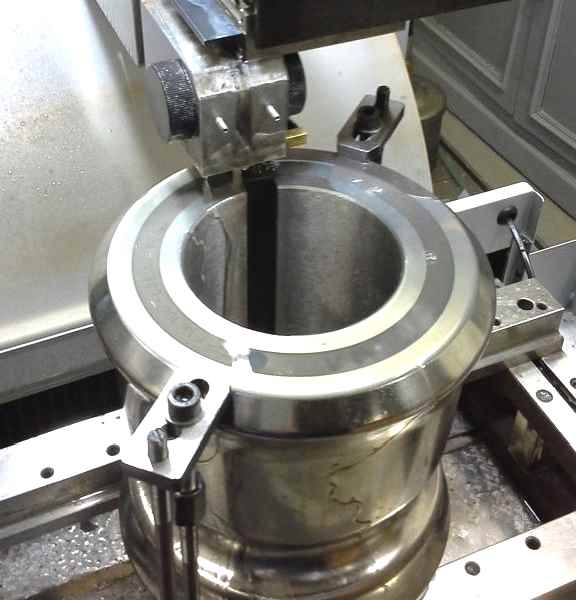 We need an E.cut.
them, forever, in the workshop…
..even if the stockpile is already there. Yes, because when you need to make a profile different from the keyway you have to prepare a tool. And then you have to have the grinding or sharpening machine, maybe with the profile projector… and it's not that anyone knows how to do it!
With E.cut it is very simple, and very inexpensive! Directly from the DXF or DWG drawing of the groove to be created you can see the cutting program and assign the inclinations of the rake angles. Place the raw tool on a normal vice (no expensive stainless steel tools) and start cutting. If you want an accurate finish you can perform up to 5 passes, until you get a roughness 'less than 1 Ra.
In a few minutes the tool is ready! No expectations of the external supplier, or of the expensive technician of the tool department…, at a very, very, very low cost!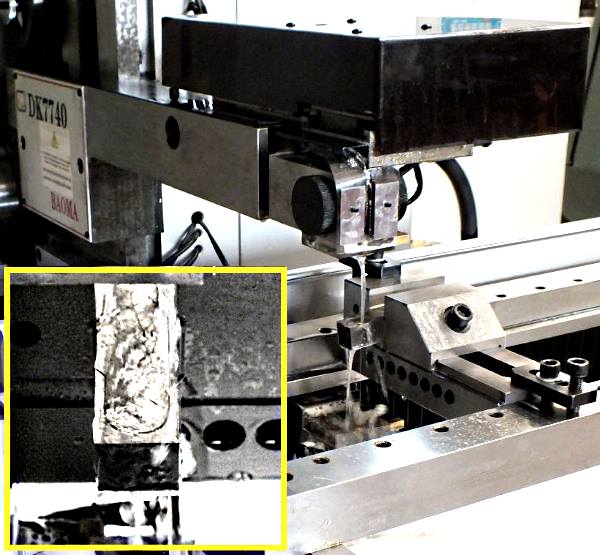 It took an E.cut.
to make this piece over 300 mm high.
Okay, the image is not very professional, but the young man who got this piece after only two weeks of using E.cut, without first knowing what a wire erosion was, was rightly proud of it. Okay, a few hours of tele-assistance with Genesis was necessary, but the result was excellent. Perfect measurements, strictly controlled in the metrological room, no barrel effect, excellent roughness and within the required values.
The lack of the creator with these measures and the 'urgency led to try with E.cut.   The result was surprising from an economic point of view. No cost for the creator, nor the need to turn to external sources to obtain the piece of erosion at primary costs.
The company had purchased E.cut mainly to make keyways, but they found themselves having a "gear cutting machine" that for single pieces turned out to be an unexpected source of income.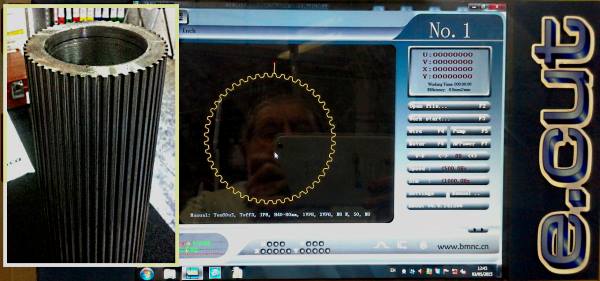 E.cut 32D is the smallest, simplest, cheapest, and most …
not bulky of the E.cut models. ( see characteristics )
The characteristics of E.cut allow you to request the 'hyper amortization to 250%, (see next article), and the forms of financing that we propose make it easy to' purchase, (see mode' of rental / financing)