EMO 2019 Hannover
Also in this edition E.cut™ was present together with Baoma.
In addition to numerous patents, 3 Euro patents make E.cut™ a machine different from the original.
Different, to meet the needs of the European mechanical industry.
Different in the components installed, all strictly available in Europe, and of primary world brands.
Different in the realization of the mechanical part, with materials and parts of the highest quality.
Different in the electrical and electronic part, entirely made in the same production area.
Different in Europe for the mode 'of assistance' before and after sales that ensure the functionality' over time.
Service interventions in a very short time on site, and a connection through tele assistance immediate and constant.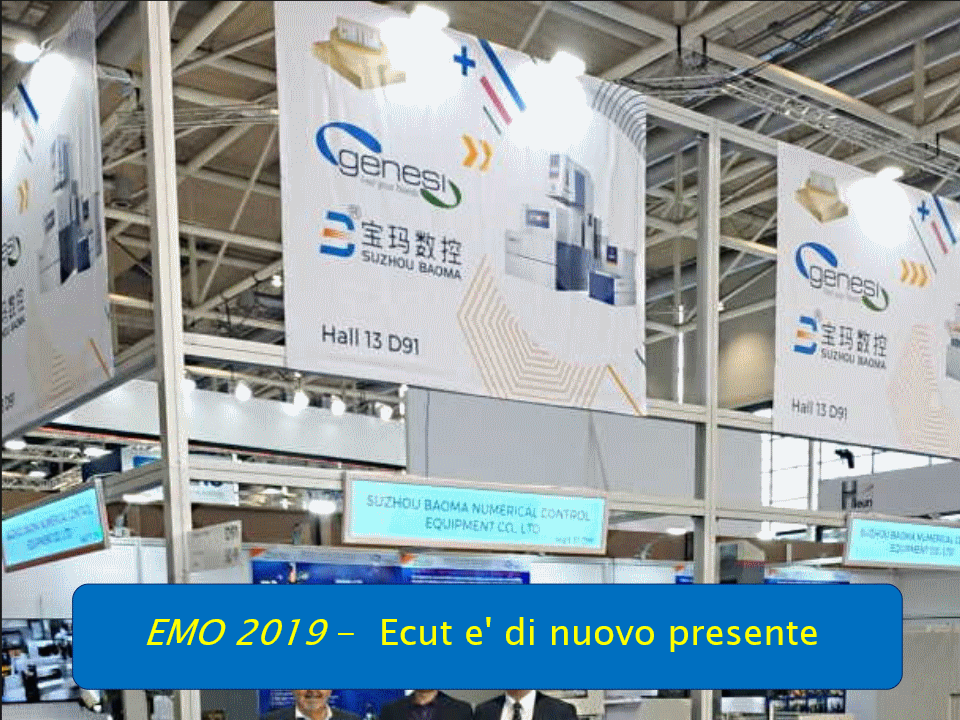 The largest mechanical company in the world, having verified the characteristics and capabilities of E.cut™, installed the first machine for one of its Italian plants in 2014, followed a few months later by a second one.
Having established the reliability of the plants and the readiness of the Genesi after-sales service, after a few years other machines were purchased to be included in very important production lines.
The latest Ecut™ has been included in a futuristic Additive Manufacturing department, a sector in which E.cut™ is the Italian leader.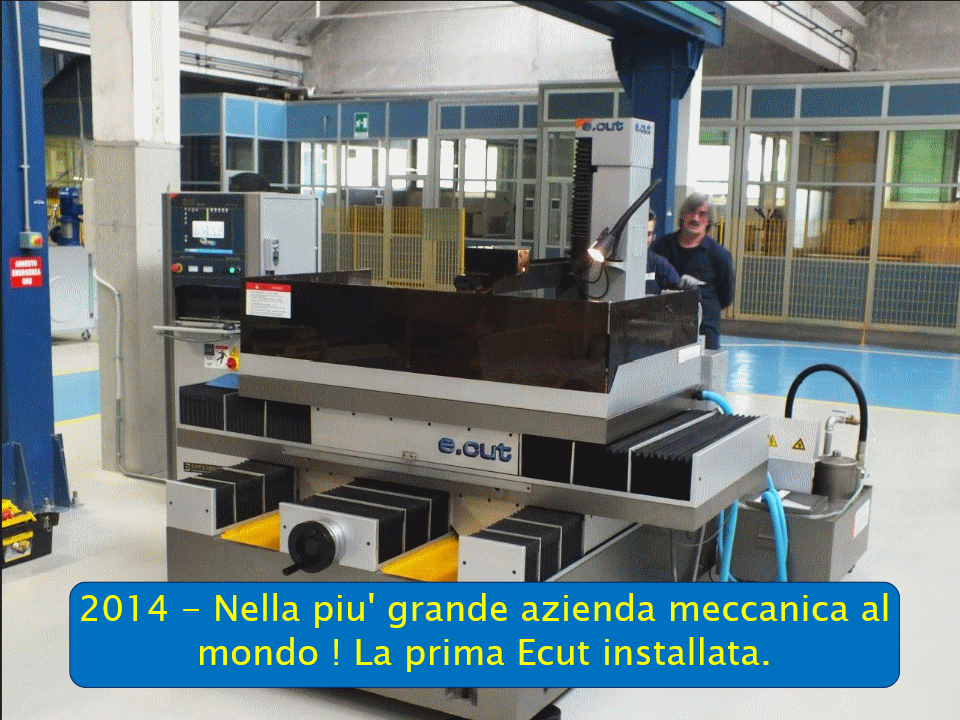 RELIABILITY
In the country of origin of these machines, after two or three years of work are returned to the manufacturer who at little expense, resets them (!). Or they are thrown away!
Obviously this is not the custom in Europe.
The costs would be too high, so a machine must guarantee its functionality over time.
The following images concern one of the first machines sold in Italy. A few simple failures, which occurred as soon as purchased and 'was promptly fixed, but after almost 12 years, disappeared the manufacturer, and no longer' available important electronic parts, it seemed time to throw it away.
The deep knowledge acquired by Genesi in these years, has allowed to adapt new components to the old electronics, and, with a minimum expense to have the machine running perfectly.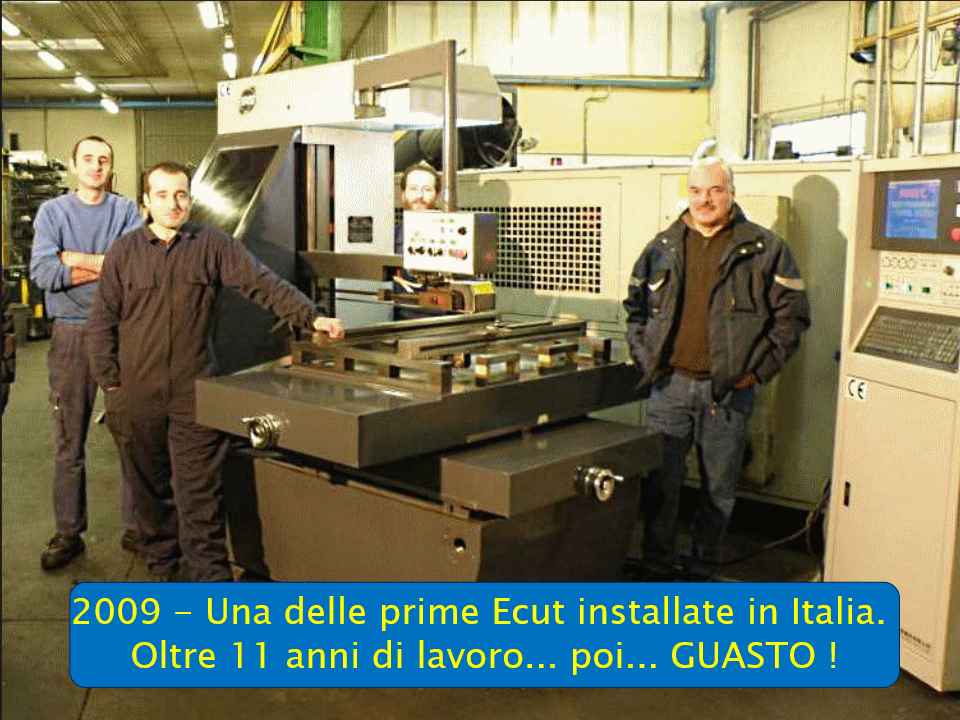 The reliability, but much more important, the precision and accuracy of the workings have brought the spread in Italy to well over 100 machines installed.
In many cases the first machine was followed by others. From the small to the big company, the cheapness of working with E.cut has allowed considerable savings. Very often work cycles have been substantially revolutionized. In the following images, one of the most important Italian gear manufacturers has acquired two plants a few months later.
Purchased to cut keyways on large gears, once the precision and ease with which this precision is obtained had been measured, it was quickly passed to much more demanding and delicate internal gears.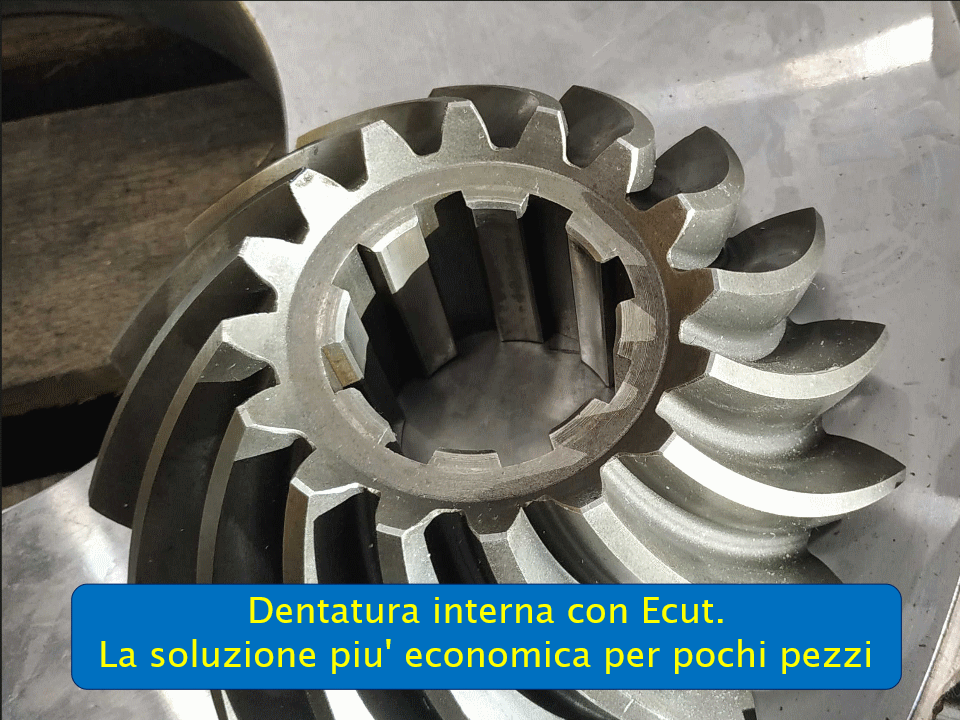 E.cut™ is only Genesi.  Not E.cut™ ?  Not the same !